The San Francisco Half Marathon 2007 was my first half marathon ever. I had been training pretty well but I was not ready for the distance and the treacherous hills of San Francisco. By the end of the race, I was completely dead and cold (the mist over the bridge had not helped). Still, this first race gave me enough desire to go on with my running and I guess it will still hold some special place in my heart.
I did not run last year because I was in France. I was not to miss it this year. First, it was fitting well in my schedule and it was a great way to see how much I have improved in 2 years.
I woke up early and drove to San Francisco, found a parking spot very easily 1 block away from the starting line and got myself ready. The race is very well organized and running over the Golden Gate Bridge is always something special. My friend Luc woke up early and managed to get station himself in the middle of the bridge and took some beautiful pictures of the race (including the 2 pictures in this post).
My race went well. It felt very different than 2 years ago. The hills did not seem as bad and I felt strong throughout. I am definitely a stronger, better and faster runner: 10 minutes faster to be exact :).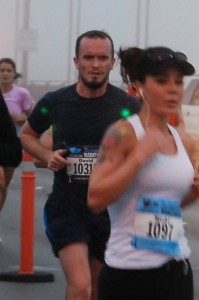 Now, I really want to run the full marathon… maybe next year?!